Overview
Sensor reference solution based on ICLM mmWave sensor SoC S3KM111L.
Detect targets in specified area using FMCW. Perform high sensibility human detection by integrating S3KM111L SoC Power-saving mode, radar signal processing, and accurate human detection algorithm. Support battery power supply.

Features
Power-saving detection, supporting battery power supply
Flexible detecting interval configuration

Adaptable to various power consumption requirements

Minimalist size, friendly for product outlook design

Convenient multi-level parameter adjustment, satisfying variable application scenarios

Accurate detection within specified range, preventing outside interference

Characteristics
Operating Frequency

24 ~ 24.25 GHz

Operating Voltage

3.3 V (accept voltage ranges from 3.0 V ~ 3.6 V)

Average Current

1.2 mA @ 1 Hz sweep rate

0.75 mA @ 0.5 Hz sweep rate

Modulation Mode

FMCW

Hardware Size

2.2 cm x 1.6 cm

Environment Temperature

-40 ℃ ~ 85 ℃

Onboard MCU

72 MHz/64 K Flash/8 K RAM/7 Communication Interfaces

Interface

VCC, GND, TX, RX, I/O

Target Application

Motion and Micro-motion Detection (0 ~ 8 m, detection area adjustable)

Installation Method

Top Mounted, Wall Mounted
* In accordance with international spectrum regulatory requirements, no frequency interference problem.
Illustration of Detection Range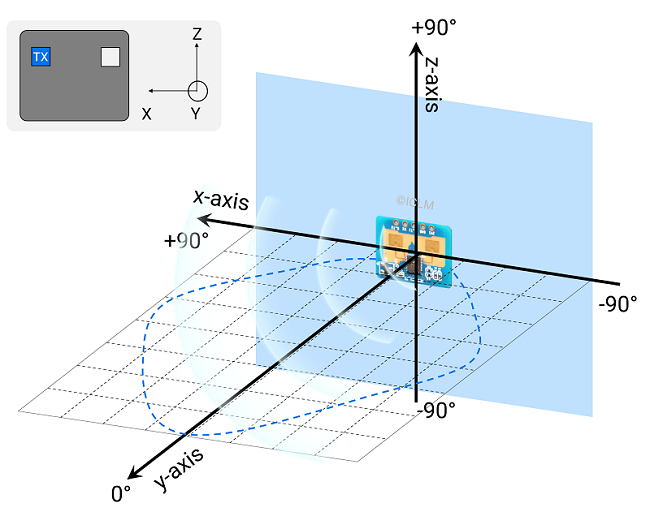 Document
XenD101PS低功耗人体感应

2022.7 version

NEW

Introduction
1.3 MB
Download